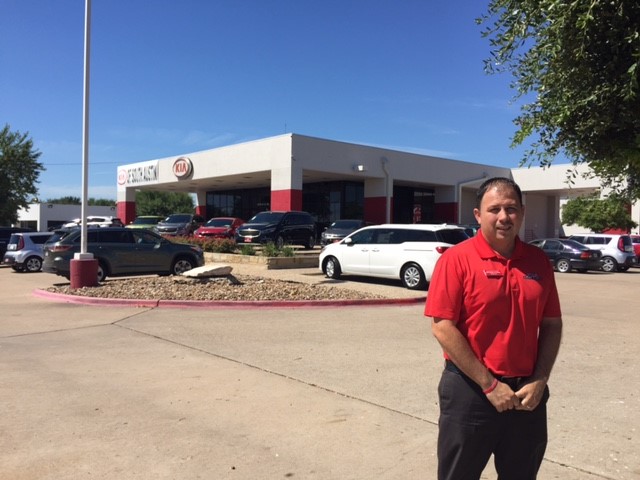 This month, Kia of South Austin is proud to spotlight another exceptional team member, Sales Associate Esteban Alanis. Esteban has been working here for nearly six years, and he is a favorite among colleagues and customers alike.
Esteban's favorite part of working at our dealership is the people he gets to work with. He says, "I enjoy the people I work with every day, we spend a lot of time with each other so it makes a huge difference."
His favorite memory with a customer? We'll let him tell you himself:
I can recall a customer years ago that came in and had a car that just suffered its last fatal mechanical breakdown (2009 Chrysler 300 if memory serves…). She stated that she had "bad credit" and that she had already been turned away from countless dealers and treated poorly. I took extra care to spend time with her by providing the "red carpet experience" in an effort to treat her the way that I would want to be treated if I were in her shoes.

We looked at a couple SUVs and spent a good 2-3 hours focused on product presentation and demo drives. At the end of her visit that day, she thanked me for taking the time that no one else would. She then politely excused herself and said that she would return the next morning to purchase from me. I didn't question or challenge her as to how she would be finalizing the transaction but before she left, she said that her husband would be helping her purchase.

She returned the next day and did purchase the SUV from me simply because of the way she felt treated. It's those moments in this business that make me proud to be part of the auto industry representing my dealership.
Esteban doesn't just help sell Kia vehicles, he's a huge fan of them too. His favorite model is the Kia Optima. He loves its sleek design, its easy-to-use technology, and he can get 540 miles to the tank in his Hybrid model.
When he's not helping customers, you can find Esteban spending time with his family, playing soccer or basketball, visiting Austin's many parks, or grabbing a bite to eat at his favorite restaurant, Pluckers. He also enjoys rooting for the Miami Heat and the Tampa Bay Buccs.
We're grateful to Esteban for all he's done to make Kia of South Austin a dealership where customers are glad to come for the ultimate Kia experience. If you haven't met him yet, be sure to say hello the next time you visit us; he would enjoy having the opportunity to meet you!