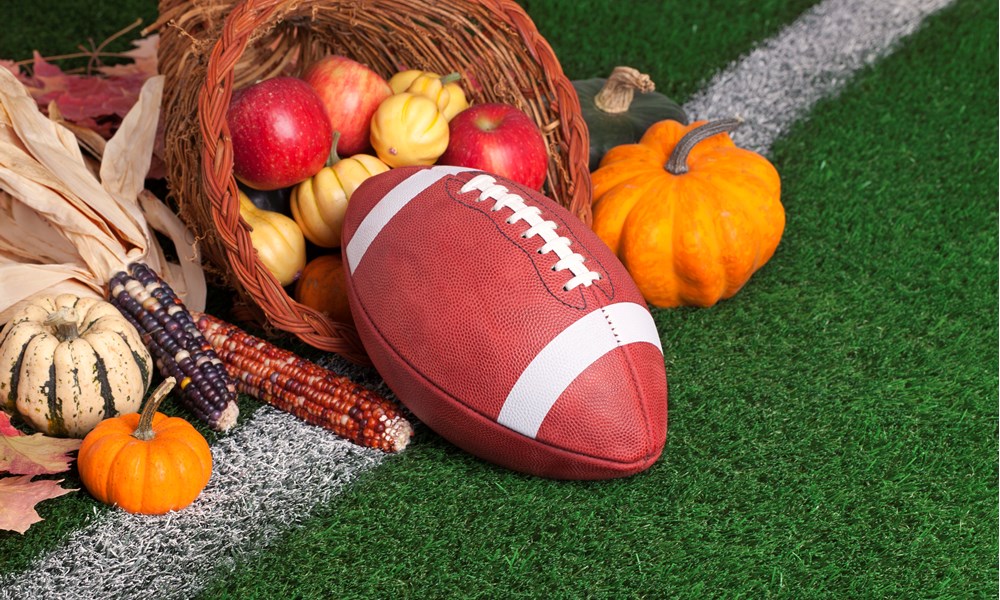 Here in the United States, Thanksgiving – also known as Turkey Day – has become synonymous with sharing things we're grateful for, enjoying time with family, and filling up on delicious staple dishes – can you say stuffing, turkey, and cranberry sauce?
But there's one thing missing from that list: football.
There's just something so American about watching that pigskin being thrown around while relaxing with your family after a second (or third) helping of your favorite homemade foods. And with that much turkey, we imagine it'll be hard to think straight with the tryptophan-induced fog that's sure to follow. The team at Kia of South Austin knows that feeling all too well, so to prepare, we've broken down everything you need to know about this year's Thanksgiving Day NFL games ahead of time.
Game Schedule
Detroit Lions vs. Minnesota Vikings
12:30 PM EST on CBS
Quarterback Matthew Stafford will be leading the offense in a mission to overtake the reigning NFC division champions in this Thanksgiving Day opener.
Dallas Cowboys vs. Washington Redskins
4:30 PM EST on FOX
This classic rivalry match-up at Jerry World between two NFC East enemies should produce an exciting and nail-biting game.
Indianapolis Colts vs. Pittsburgh Steelers
8:30 PM EST on NBC
Andrew Luck is looking for his first victory over the Steelers, but the Colts will have to work hard to outscore Big Ben and the aggressive Pittsburgh offense.
Cord Cutter? Here Are Alternative Ways to Watch
Verizon
Verizon customers on Verizon's More Everything Plan can stream Monday and Thursday night games for free through the NFL Mobile app, which is available on iPhone, iPad, and Android devices. You can also purchase the NFL RedZone app for $1.99 per month if you don't want to miss crucial Sunday night games.
Good Ol' Fashioned Antenna
You may be able to get live NFL broadcasts from CBS, FOX, and NBC through this relic of the past. While first mention of an antenna probably conjures up memories of fiddling with those old bunny ears on top of the television, today's antennas are much easier to use.
Sling TV
Sling TV is still relatively new to the cable-alternative scene, but it's worth a look if you're looking for a variety of channels that don't require shelling out hundreds of dollars each month. Choose between the Orange ($20 per month) or Blue ($25 per month) TV Packages for what best fits your needs.
Since we're talking about football, let's cover the sports channels; Sling Orange comes with ESPN, ESPN2, and ESPN3, while Sling Blue comes with FOX, NBC, NBC Sports Network, FOX Sports, and NFL Network*. True sports fans can add on the Sports Extra package for $5. If you choose to opt for both Sling Orange and Sling Blue, you'll get them at a discounted rate of $40 (which makes deciding whether or not to add that Sports Extra package even easier). Compare packages here.
For the Win
No matter how you watch the games this year, remember that celebrating with your family is the ultimate win. If you're planning on traveling to visit family or friends this year, make sure that your vehicle is in top shape to "go long."
As one of the busiest travel times of the year, it pays to make sure your vehicle is free from problems. If you're due for an oil change, need a headlight replaced, or require any other maintenance, let us help you take care of it so you can travel worry-free.
*In select markets