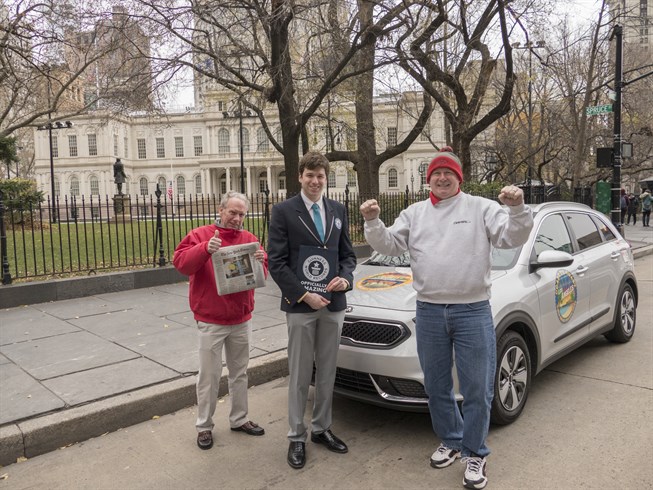 Kia Knocks It Out of the Park with First-Ever Hybrid
When you think of a hybrid vehicle, Kia probably isn't the first brand name to come to mind. After all, the first-ever dedicated hybrid to come from the automaker is the 2017 Niro, which is set to arrive at dealerships like ours in the first quarter of this year. And yet, when the engineering minds at Kia decide to do something, they do it right. Which is why the 2017 Kia Niro is officially the new Guinness World Record® title-holder for "Lowest Fuel Consumption Driving Across the USA from Coast to Coast (Hybrid Car)".
The Record Run
To set the record, Wayne Gerdes of Carlsbad, California, and co-driver Robert Winger of Williamsburg, Virginia, drove the unaltered Niro EX 3,715.4 miles from Los Angeles City Hall to New York City Hall. They made the run using only 48.5 gallons (4.1 tanks of gas), giving them a world record mpg of 76.6.
Of course, the team at Kia of South Austin isn't the only one excited about this record-breaking achievement. As Orth Hedrick, vice president, product planning KMA, says:
We're extremely pleased with the Niro's record-breaking performance. We set out to build a vehicle that offers real-world utility, great looks and fantastic mileage, and setting the Guinness World Record® title confirms our achievement
What You Can Expect from the 2017 Niro
An urban hybrid crossover, the 2017 Niro is designed to deliver the best of both worlds--as a hybrid, it offers incredible fuel efficiency (obviously), as well as the spaciousness and versatility you'd expect from a crossover. Add in a host of outstanding driver assistance features, (including available Autonomous Emergency Braking, Blind Spot Detection, Rear Cross Traffic Alert, Lane Change Assist and Lane Departure Warning), as well as advanced telematics and entertainment equipment like UVO3 with Apple CarPlay™, Android Auto™, and a 7-inch touch screen, and you've got yourself the ideal vehicle.
---
To learn more about the 2017 Kia Niro, (or to experience it in person once it arrives), don't hesitate to call, contact us online, or visit us at 5306 IH 35 South, Austin, TX 78745 today. We'd be more than happy to answer any questions you may have or to schedule a test drive.
Image: Kia