New for 2017
The Niro is an all-new model.
A Hybrid Unlike Any Other
Kia hopes to nearly triple its green car lineup by 2020, and the 2017 Niro hybrid is leading the charge. The Niro is Kia's first dedicated hybrid model, meaning it's about to become the poster child for the Korean automaker's green car push. It also promises to offer a combination of fuel efficiency, sporty driving dynamics, and utility not seen so far in the hybrid segment.
Performance
The Niro is Kia's first dedicated hybrid model meaning—like the Toyota Prius—it isn't just a regular production model with a hybrid powertrain. That means Kia was able to engineer it from the ground up for fuel efficiency, without having to make any compromises due to working with an existing platform.
The Niro's powertrain consists of a 1.6-liter Atkinson-cycle four-cylinder engine that features direct injection and exhaust gas recirculation for added efficiency. It drives the front wheels with the aid of an electric motor, which gets power from a 1.56-kilowatt-hour lithium-ion battery pack. The combination is good for a combined 146 horsepower and 195 pound-feet of torque. Official EPA fuel-economy ratings will be published closer to the Niro's launch, but Kia expects a combined rating of 50 mpg.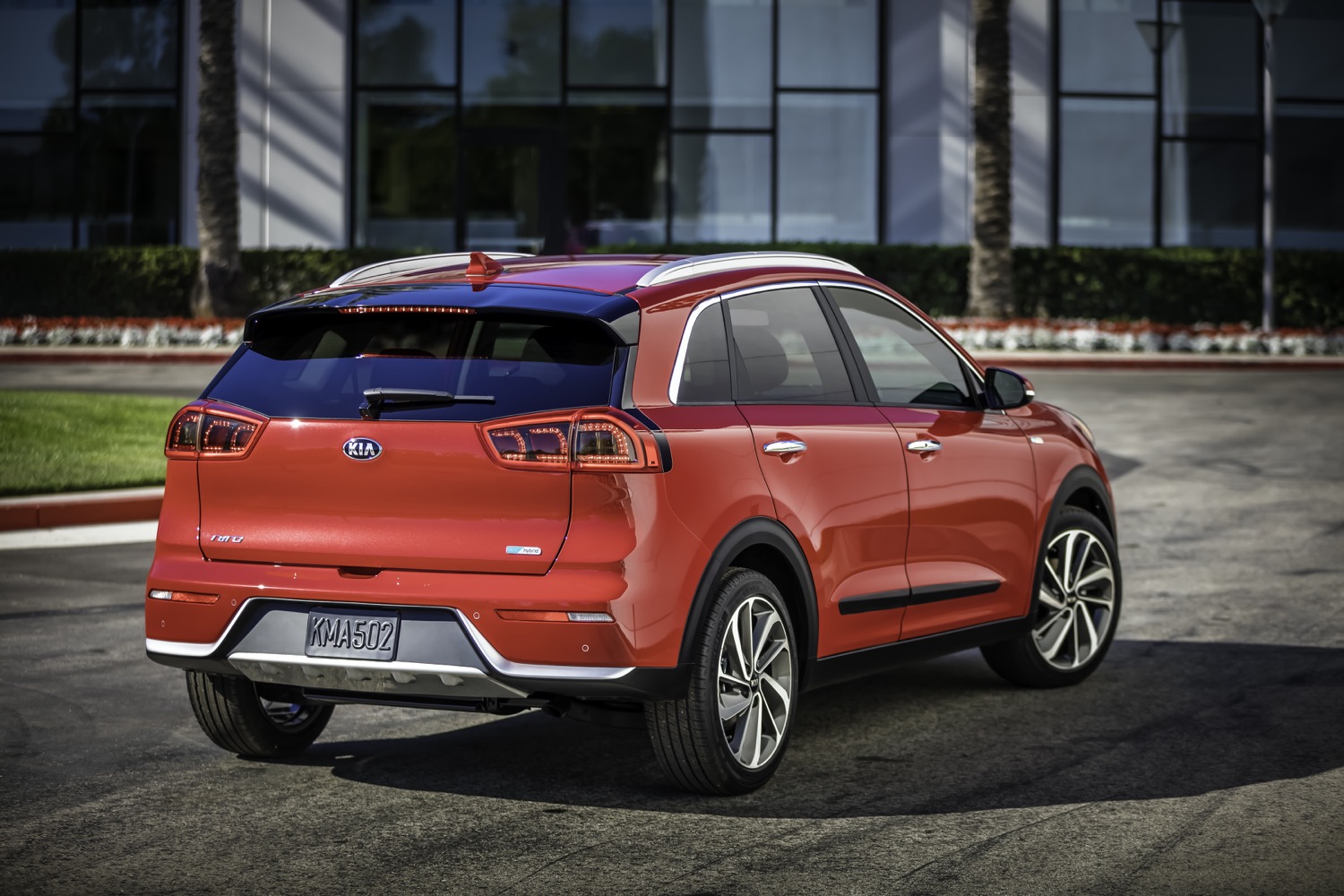 But Kia wanted the Niro to be fun to drive as well as efficient. To that end, it equipped the Niro with a six-speed dual-clutch transmission. By delivering actual shifts in a quick and precise manner, Kia says the dual-clutch gearbox will provide a more satisfying experience than the continuously-variable transmissions used in other hybrids. Engineers also designed to regenerative braking system to blend seamlessly with the conventional hydraulic brakes.
Like the best sports cars, Kia also emphasized lightness in order to improve the Niro's driving experience. The chassis was designed specifically to accommodate the hybrid powertrain, and is made from 53 percent high strength steel. Weight was further shaved with aluminum components such as the hood, several suspension elements, and the brake calipers. Even the brake pedal is made from lightweight fiber-reinforced plastic, and Kia swapped the conventional lead-acid 12-volt battery for a lithium-ion one.
Features
The 2017 Kia Niro is a five-door, five-seat utility vehicle. Pricing and full details and standard and optional equipment will be available closer to the car's launch.
Some available features will include 18-inch alloy wheels, a 60/40 split-folding rear bench seat, heated and cooled front seats, heated steering wheel, 10-way power driver's seat, memory system for driver's mirror and seat settings, cloth or leather seats, and more.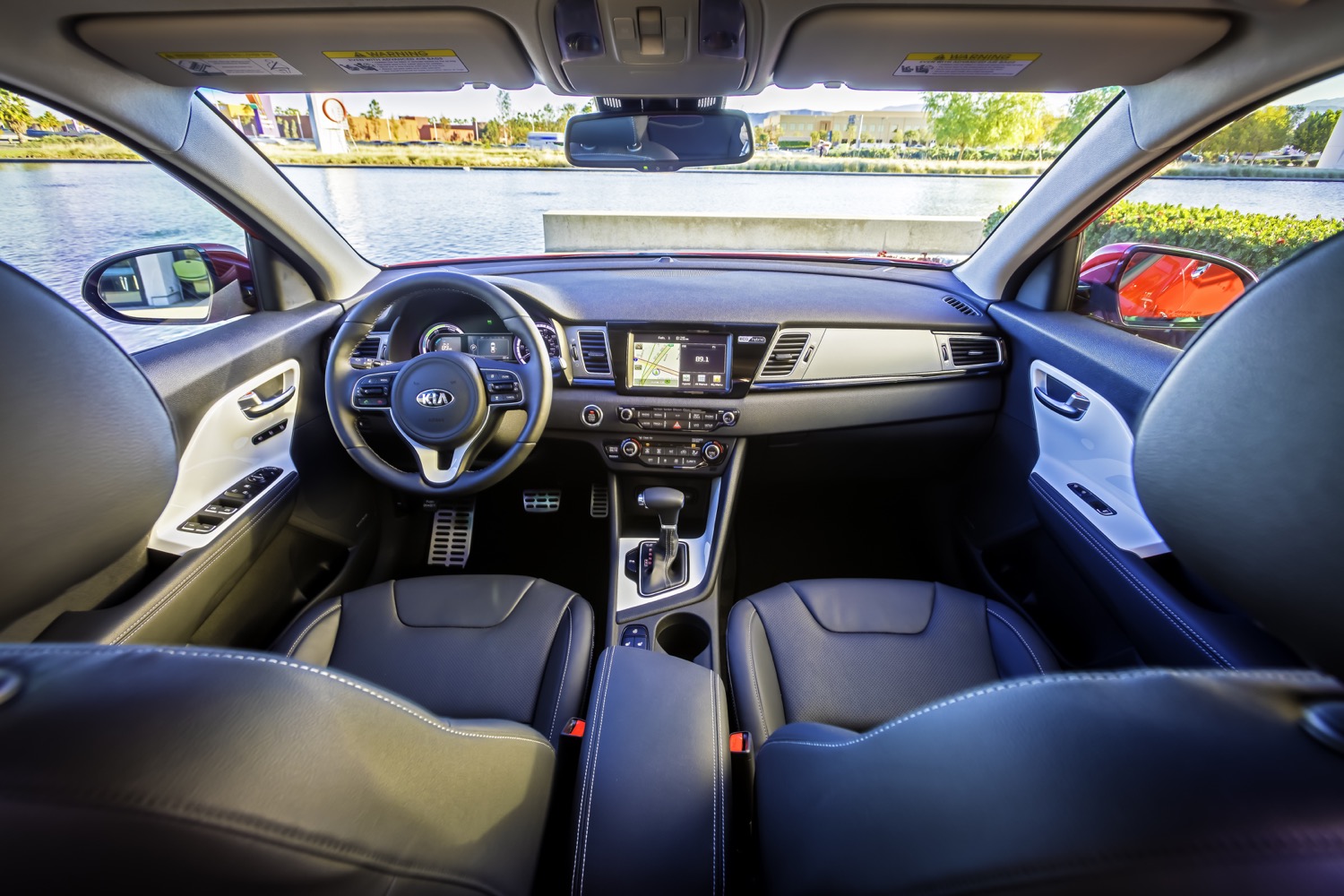 The Niro will also be offered with a full suite of technology features, including Kia's UVO3 infotainment system with Apple CarPlay®, Android Auto™, and a 7.0-inch touchscreen display, wireless phone charging, and an 11-speaker Harman/Kardon® audio system.
Design
The design of the 2017 Kia Niro defies categorization. It combines a tall roof and other cues normally associated with SUVs with the low seating position and ride height of a car. Kia calls it an "un-hybrid" design.
Up front, the Niro sports Kia's signature "tiger nose" grille and swept headlights. Low-and-wide proportions and short front and rear overhangs give the Niro a sportier appearance than most utility vehicles, and the sleek silhouette gives it a fairly low drag coefficient of 0.29. The Niro manages to be different by combining different styling elements unexpectedly, rather than just going for gimmicky features.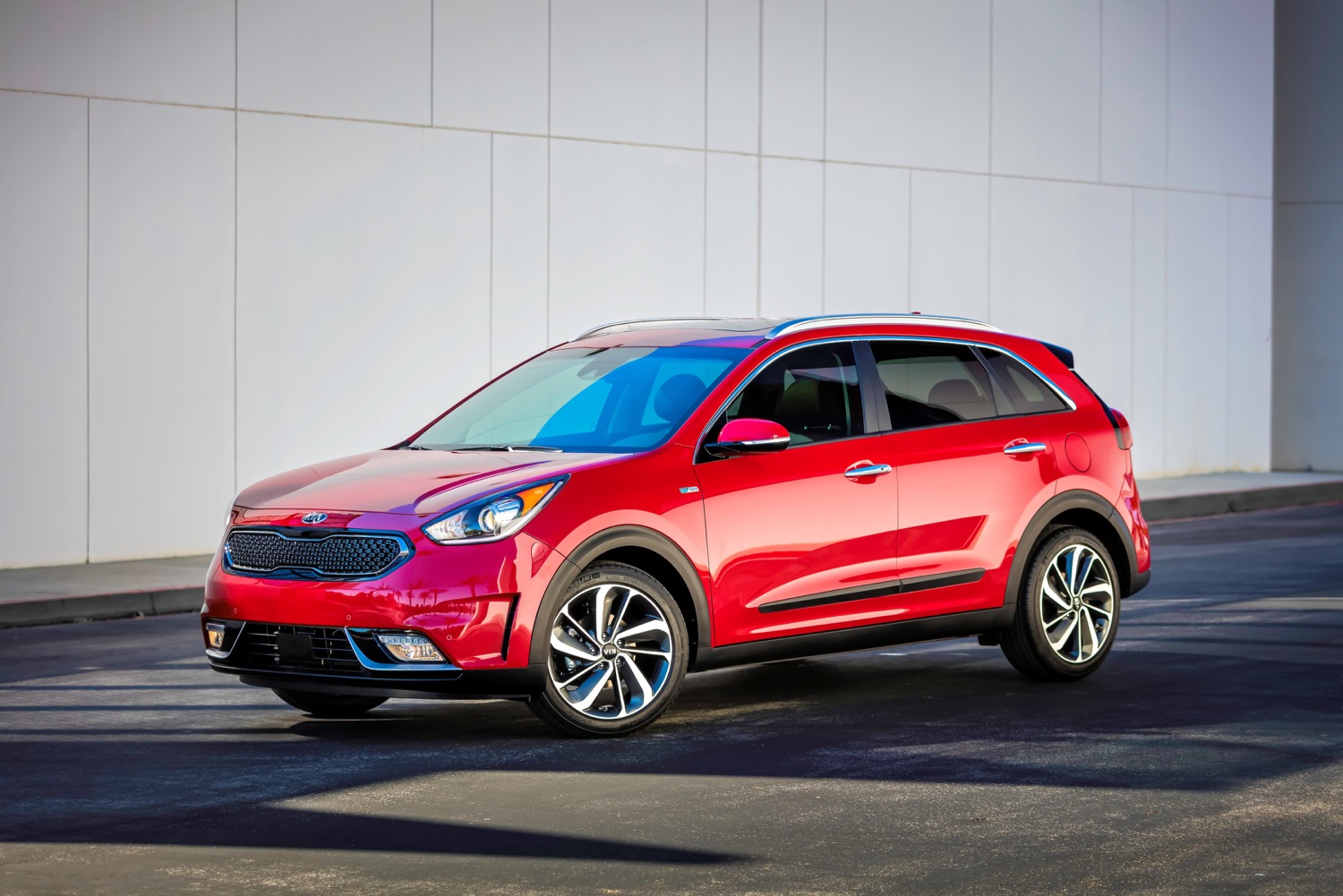 The interior shows the benefits of the body's unusual styling. Despite the low ride height, the Niro provides a high seating position more like a traditional SUV, and an airier cabin courtesy of the tall roof. The Niro's 106.3-inch wheelbase and wide stance also provide plenty of legroom and shoulder room in what is a fairly small footprint.
Like other recent Kia models, the Niro features a fairly clean dashboard design, with goof integration of both analog controls and the central touchscreen display. In addition to infotainment features like Apple CarPlay® and Android Auto™, the Niro's tech suite includes some hybrid-specific features. The Coasting Guide aims to maximize fuel economy by coaching the driver when to coast or brake, and Predictive Energy Control uses the navigation system to anticipate energy use based on terrain.
Safety
Standard safety equipment on the 2017 Kia Niro will include anti-lock brakes, stability and traction controls, and a full array of airbags. Other safety features will include a rearview camera, adaptive cruise control, park assist, lane departure warning, forward collision warning, blind spot detection, and autonomous emergency braking.
Verdict
The 2017 Kia Niro promises something new for the hybrid segment.
For more information on the Kia Niro, including price and availability, be sure to contact us online or visit Kia of South Austin at 5306 IH 35 South, Austin, TX 78745
Image: Kia